Cookie settings
This website uses cookies, which are necessary for the technical operation of the website and are always set. Other cookies, which are intended to increase the convenience of using this website, for direct advertising purposes or to simplify interaction with other websites and social networks, are only set with your consent.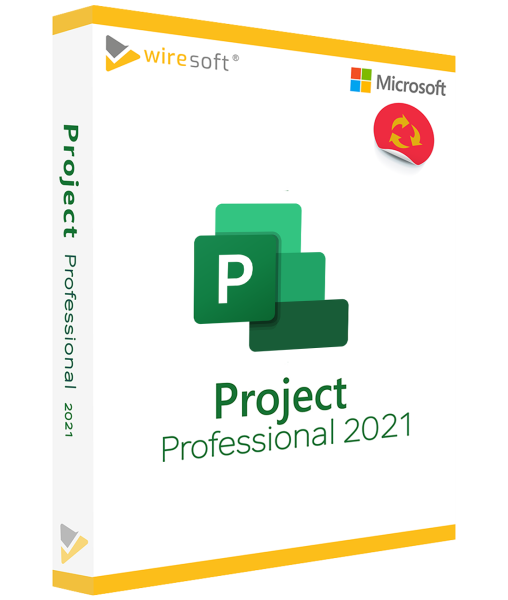 MICROSOFT PROJECT 2021 PROFESSIONAL

Prices incl. VAT
Available as an instant download
---
Are you a business customer or do you have legal questions?
I am here for you.
---
Kadir Aydin
Microsoft Licensing Professional (MLP)
item number:

SW10447

Benefits

- Fast delivery
- Authorised original product
- Shipment within 24 hours
- Chat, e-mail and telephone support

Microsoft Project 2021 Professional - the new professional version of the proven project...
more
Product information "MICROSOFT PROJECT 2021 PROFESSIONAL"
Microsoft Project 2021 Professional - the new professional version of the proven project management software
With Project 2021 Professional, Microsoft has released a current version of the versatile software that is indispensable as a project management system, especially for larger companies and organizations: It offers a variety of practical business functions for planning, controlling and monitoring projects, and thus meets the typical requirements of enterprise project management (EPM) as well as requirements, multi-project and portfolio management. Project 2021 Professional also provides valuable services in risk and document management, as well as central resource planning, time recording and access management. Last but not least, it is virtually indispensable for comprehensive reporting via Microsoft SQL Server. The new version Project 2021 Professional has also been optimized for seamless compatibility with many other Microsoft applications as well as the cloud services.
Like its predecessor, MS Project 2021 is used to initiate, plan, monitor, control, execute and successfully complete projects and typical process groups in accordance with the PMI standard. It thus fulfills all important and necessary requirements for the successful achievement of project goals and also offers options for analyzing and distributing the decisive competitive factors of companies: In addition to the planning of resources in terms of scope as well as the time commitment and the allocation of the necessary tasks, precise information can also be provided on the workload, required capacities or competencies, and the actual effort in relation to the costs and budget.
You can already find Microsoft Project 2021 Professional in the Wiresoft Software Shop as used software in a perpetual version or purchase license - at a lower price than new software. It is best to contact our team immediately and find out when you can download the new Project version, as well as other editions of Microsoft Project 2021. The following overview presents all the already known features of this edition, including the exclusive functions that are only available to you in the Professional Edition.
Exclusive features in the MS Project 2021 Professional edition
The MS Project 2021 Professional Edition differs from the Standard Edition in several exclusive features that are especially important for project management in larger companies: Project 2021 Professional also works with MS SharePoint and MS Project Server for more comprehensive communication, as well as the option to use the software in conjunction with Project Online. Many existing templates and frequently used planning tools increase the productivity of the teams. In addition, the Team Planner offers an improved overview.
Comprehensive Portfolio Management
The improved portfolio management of MS Project 2021 Professional helps to keep track of a large number of projects and to quickly recognize whether they are running as planned or whether delays are occurring. The differentiated display of schedules, including budget management, provides decision-makers with a comprehensive overview. In addition, seamless integration with Power BI provides analysis functions in critical situations, including suggestions for solutions.
Clearer resource management
MS Project 2021 Professional includes powerful tools to make planning and managing business resources even clearer. In particular, classic resource types such as "labor", "material" and "costs" can be calculated even better and used efficiently with them. For cross-project planning, these can be recorded in a resource pool and assigned to specific individual activities. Time restrictions and potential overloads are also taken into account. The clear display in the task and time recording allows all individual phases to be updated independently; in addition, the respective task path marked in a Gantt chart always shows the current status quo. Using the context-sensitive user interface, all tasks can be organized individually and linked with each other as required, whereby timelines can also be created.
Other important features in MS Project Professional 2021
MS Project Professional 2021 also has a lot to offer visually: The clear desktop display facilitates access to many functions that also optimize easier project tracking using Gantt charts, the control and visualization of processes in relation to schedules, and with customizable reports the visualization of project data, thus improving team communication and workflows.
Fast project creation
With just a few clicks, you can create a new project in Project 2021 Professional: Predefined templates can be used for this purpose, as well as a blank Gantt chart. Existing data can be imported from Excel or SharePoint.
In order to visualize project data in the form of reports and thus share information about the project status with other members of the team, template sets for typical reports are also available here; these can then be further supplemented with images, diagrams and animations.
Exclusive to MS Project Professional 2021, templates are also available for standard burndown reports, as used in agile project management, especially Scrum, to compare planned with completed and open project phases.
Timeline bars show the progress of each task
MS Project Professional 2021 includes the option to label timeline bars to make it easier for others to understand, thus communicating the progress of a project even better: Task progress can be displayed directly on individual tasks, improving the information content of plans, including the current status.
Use collective tasks in the search
In MS Project Professional 2021, the "Collective task name" field in a larger list within the overall plan of a project makes it easier to find a specific task, because it contains the names of all the collective tasks that are assigned to the respective tasks. The clarity of the project structure can also be improved by displaying the names of immediate collection activities assigned to each resource, and by adding the read-only Collection Activity Name field to the table area in the Resource: Usage view.
Easy linking of tasks
MS Project Professional 2021 makes it particularly easy to link individual tasks. Whereas previously it was necessary to know the ID of a task in order to create a link, it is now sufficient to select the corresponding cell in the "Predecessor" column and display a list of all tasks for the project in question using the arrow displayed. The task hierarchy also corresponds to the defined sequence in a project, so users only have to scroll to the task they are looking for and activate the corresponding checkbox. Similarly, the "Successors" column can also be used for this purpose.
Accessibility in MS Project 2021 Professional
The Project 2021 Professional Edition also contains a number of accessibility optimizations that make it easier for users to work on their own as well as to communicate with colleagues with a handicap. Numerous accessibility features are already activated by default in MS Project 2021: e.g. the scaling level of the bar display can be adjusted using the "Zoom" button, which enlarges the time window of a bar. The same applies to the buttons of the menu ribbon, which can be enlarged so that the symbols and functions can be recognised better. Analogous to "Zoom", the "Screen Magnifier" can be used to enlarge the view. To increase the contrast, the text color can also be adjusted and a user-defined color palette can be created for it, as well as the font type and size can be changed.
All basic functions in MS Project 2021 can also be accessed via keyboard shortcuts. Microsoft Active Accessibility (MSAA) is used here as an input aid and for displaying information. Certain areas in Project 2021 Professional can also be controlled using Windows speech recognition or can be read aloud via speech output.
The activated spell checker not only automatically corrects spelling and typing errors, it can also automatically complete various entries in a column. Frequently used, even complex tasks can be automated via macro to speed up the completion of standard tasks in a project.
Hardware requirements for Microsoft Project 2021 Professional
Since MS Project Server Professional is a service application of Microsoft's SharePoint Server, it is expected that the Professional Edition 2021 can also only be activated for the Enterprise version of the corresponding MS SharePoint Server. As before, the base language will be automatically matched to both applications.
Furthermore, the following minimum requirements are expected to apply, depending on the use of additional apps or programs, additional requirements may need to be considered:
Operating systems: Windows 10, Windows Server 2019/2021
Processor: min. 1.6 GHz, Dual Core (32 or 64 Bit)
RAM: 2 GB RAM (32 bit) or 4 GB RAM (64 bit)
Hard drive space: 4 GB
Screen resolution: 1,280 x 768 pixels
Graphics card: DirectX 10
If you have any questions, please contact the Wiresoft team.
Buy Microsoft Project 2021 Professional in the Wiresoft Software Shop
The new MS Project 2021 Professional Edition is already available at Wiresoft as a used single license - so the price is cheaper than from new. When buying used software for Microsoft Project 2021 Professional at Wiresoft, you always benefit from the following advantages:
Immediately after purchase, your MS Project 2021 Professional application is available to you via Electronic Software Download (ESD).
MS Project 2021 Professional as well as all other used Microsoft licenses offered for sale at Wiresoft are neither limited valid or only limited test versions, nor do they contain an already activated license key, but it is a software product authorized only for you.
You are receiving a single license of MS Project 2021 Professional that was previously purchased and resold by a European company. By reselling, this license of MS Project 2021 Professional is marked as used without "used" implying any restrictions on the functionality of the Project software.
If an initial purchaser already had this Microsoft Project software installed, this was deleted again with the sale to Wiresoft, so that the software license in question is 100% freely available again.
All such used licenses purchased from Wiresoft were also tested by us for full usability prior to sale.
The legal basis for the resale of used Microsoft Project software is the applicable law, which allows the sale and purchase as well as the use of this software.
Therefore, when buying a license with Wiresoft, you can be sure that you are buying and using a legal and original Microsoft product for Project 2021.
If you have any further questions regarding your license purchase of Microsoft Project 2021 Professional as used software or another MS Project 2021 edition as well as older MS Project versions or other Microsoft software, please feel free to contact us by e-mail, phone or chat.
Read, write and discuss reviews...
more
Customer reviews for "MICROSOFT PROJECT 2021 PROFESSIONAL"
Write rating
Ratings will be activated after verification.