Cookie settings
This website uses cookies, which are necessary for the technical operation of the website and are always set. Other cookies, which are intended to increase the convenience of using this website, for direct advertising purposes or to simplify interaction with other websites and social networks, are only set with your consent.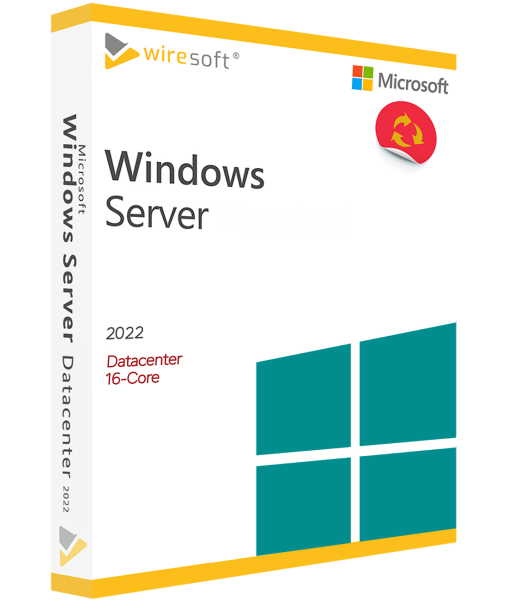 MICROSOFT WINDOWS SERVER 2022 DATACENTER 16-CORE

Prices incl. VAT
Ready for immediate dispatch, delivery time 24h
---
Are you a business customer or do you have legal questions?
I am here for you.
---
Kadir Aydin
Microsoft Licensing Professional (MLP)
item number:

SW10454

Benefits

- Fast delivery
- Authorised original product
- Shipment within 24 hours
- Chat, e-mail and telephone support

Microsoft Windows Server 2022 Datacenter - enhanced security for large networks Windows Server...
more
Product information "MICROSOFT WINDOWS SERVER 2022 DATACENTER 16-CORE"
Microsoft Windows Server 2022 Datacenter - enhanced security for large networks
Windows Server 2022 Datacenter is the new Microsoft server operating system especially for larger enterprises. This version of the server software, based on Windows 10, offers even more security and options for the provision and sharing of data, applications and services in complex networks and thus meets the highest requirements. In addition, the Datacenter Edition offers more options for the integration and management of hybrid features as well as virtualization and various performance improvements for Windows containers.
Network security is the central theme of Windows Server 2022 Dat acenter Edition. Here it offers many new features as well as enhancements and optimizations of existing features. These include the use of TLS 1.3, the latest version of Transport Layer Security, as well as new support for encryption over RDMA networks via SMB Direct using AES-128 and AES-256.
The Datacenter Edition of Windows Server 2022 offers especially large data centers of companies extended options for the virtualization of data and applications: an improved scalability, an even stronger performance as well as effective security features protect them reliably in multi-cloud environments.
Licensing of Windows Server 2022 Datacenter Edition is also core-based, with a minimum of 16 cores per server. Access for users is granted with a client access license (CAL).
At Wiresoft you can already find the Windows Server 2022 Dat acenter Edition at low prices as used software - with the full performance in terms of virtualization, performance and security. For more information about the new features and functions of the Windows Server 2022 Datacenter Edition, please read the following overview - and also contact a Wiresoft representative directly.
What's new in Windows Server 2022 Datacenter?
Like its predecessor, the new version of Microsoft's server operating system, Windows Server 2022, is once again based on Windows 10. This means that users will also find a familiar desktop interface in visual terms, with all functions available in the usual place. The new Windows server software 2022 also receives 10 years of product support from Microsoft in the form of support and updates.
Compared to the previous version, the Windows Server 2022 server software offers many innovations in the three important areas of security, application platform and data migration.
Specifically, the Windows Server 2022 Datacenter edition again offers a plus with Hyper-V, SDN, Storage Spaces Direct and Storage Replica and support for Shielded Virtual Machines, for creating highly secure virtualization infrastructures, with:
Support for an unlimited number of virtual machines plus one Hyper-V host per license
Unlimited Storage Replica for synchronous as well as asynchronous replication of volumes between servers or clusters for disaster recovery
Hyper Converged Infrastructure for software-defined consolidation of computing, storage and networking functions in a cluster
Virtual OSE (Operating System Environment)
Shielded Virtual Machines (SVM)
Software-defined Networking (SDN)
Software-defined storage (SDS)
Other features of Windows Server 2022 Datacenter Edition
In addition, Windows Server 2022 Datacenter Edition includes numerous other features that address the growing demands of operating complex networks.
Enhanced security in Windows Server 2022 Datacenter
Windows Server 2022 now includes a new layered security to provide enterprise servers with comprehensive data and service protection. These new features and enhancements include the following:
TPM 2.0 (Trusted Platform Module) provides a hardware-assisted store for cryptographic key protection, including system integrity measurement and code trust verification at Windows Server startup. This module is also used in BitLocker drive encryption.
Secured core server processors provide firmware protection, with Dynamic Root of Trust for Measurement (DRTM) technology supporting startup measurement and verification, as well as Direct Memory Access (DMA) protection for isolated driver access to memory.
In addition, Secured Core servers support VBS (Virtualization-Based Security) and HVCI (Hypervisor-Based Security) code integrity. VBS uses various hardware virtualization features to create a secure memory area that is isolated from the normal operating system, protecting the server from the risks associated with cryptocurrency mining attacks.
VBS also supports Credential Guard to store user login information in a virtual container to which the operating system has no direct access.
HTTPS and TLS 1.3 are enabled by default on Windows Server 2022 Datacenter to establish secure connections. TLS1.3 (Transport Layer Security) is the latest version of the most widely used security protocol on the Internet for encrypting data to provide a secure communication channel between two endpoints.
Secure DNS supports DoH (DNS-over-HTTPS) when encrypting DNS queries using the HTTPS protocol to prevent eavesdropping and tampering with DNS data, which also contributes to traffic security.
SMB (Server Message Block) uses AES-256-GCM and AES-256-CCM for encryption, and these are automatically used in Windows Server 2022 when connecting to another computer that also supports these standards.
Encryption using SMB Direct and RDMA (Remote Direct Memory Access) provides higher bandwidth as well as lower latency in Windows Server 2022 for direct storage, storage replica, Hyper-V, and SQL Server.
Failover clusters in Windows Server 2022 allow differentiated encryption control for CSV (Cluster Shared Volumes,) and SBL (Storage Bus Layer).
Container Platforms in Windows Server 2022 Datacenter
When using Windows Containers, there are also various optimizations in Windows Server 2022 Datacenter, for example in application compatibility as well as for the Windows Container user interface with Kubernetes.
For Windows Containers, the image size has been reduced by up to 40%, increasing startup time by 30% and improving performance.
The use of Kubernetes has been enhanced with broader support in host processes for configuring nodes as well as IPv6 , as well as implementing network policies with the open source software Calico.
Windows Admin Center update now simplifies container creation for .NET applications.
Storage and Migration Services in Windows Server 2022 Datacenter Edition
Among the many improvements in Windows Server 2022 are those in Storage Migration Services, making it easier to migrate storage to Windows Server as well as from other source storage locations to Azure. The Windows Server 2022 Storage Migration Server orchestrator now provides the following options:
Migrate local users or groups to Windows Server
Migrate storage from or to failover clusters
Migrate between standalone servers and failover clusters
Migrate storage from Linux servers using the open source Samba application
Migrate to Microsoft Azure networks
Migrate from NetApp CIFS servers as well as FAS arrays to Windows Server
Other features:
For storage repair, customizable speed now provides better control of data synchronization: resources can be optionally allocated to repairing data copies (resilience) or running active workloads (performance). This allows clusters to be managed more flexibly and efficiently.
Storage bus cache provides storage on standalone servers, connecting faster media such as SSD or NVMe to slower ones such as HDD, improving read and write performance and therefore efficiency.
New SMB compression eliminates the need to manually compress files when transferring them over the network, allowing for faster transfers on busy networks.
Individual improvements in Windows Server 2022 Datacenter
In addition to the enhancements already listed, the new Windows Server 2022 release offers a host of other optimizations that boost server performance as well:
AMD processor support for Nested Virtualization now provides more options in environments to run Hyper-V on a Hyper-V virtual machine (VM).
Microsoft Edge replaces Explorer. Edge is based on Chromium open source, providing more security than Internet Explorer.
There are performance improvements for Transmission Control Protocol (TCP) through the use of TCP HyStart++, which reduces packet loss, and with RACK (Recent ACKnowledgment) to reduce retransmit timeouts (RTO) during retransmissions.
RSC (Receive Segment Coalescing) optimizes the performance of virtual switches in Hyper-V by aggregating packets in the hypervisor network, allowing them to be processed as larger segments. This reduces CPU cycles and also improves network traffic performance, among other benefits.
Hardware requirements for running Windows Server 2022 Datacenter
Windows Server 2022 is based on the Windows 10 operating system, and to take full advantage of all the features of this version of the server and to ensure the security of a server, the underlying hardware must meet the minimum requirements listed below. Further requirements depend on the respective system configuration as well as additionally installed applications.
Processor: 1.4 GHz 64-bit
Memory: 512 MB or 2 GB for servers with Desktop View installation option
HDD: 32 GB free disk space
Graphics card and monitor: 1,024 x 768 pixels
Also for BIOS: UEFI system with secure boot (UEFI 2.3.1c) for certain features
Licensing Windows Server 2022 Datacenter
Licensing of a server with Windows Server 2022 Datacenter Edition is also done for used software in accordance with Microsoft licensing terms, using the number of cores as the benchmark for calculating license requirements. The following terms and conditions apply:
Windows Server 2022 Datacenter software is always licensed based on the actual physical hardware used. In addition to the number of core processors physically present, the number of virtual servers is also taken into account.
A single server license covers 2 physical processor cores.
According to the Microsoft license terms, the minimum number of 8 cores per processor is always taken as a basis - even if the actually existing hardware should have less than 8 cores.
For each physical server, a minimum of 2 processors is always applied, resulting in a minimum of 16 cores.
For servers with more than 16 cores, additional cores must be licensed with the corresponding Windows Server 2022 Datacenter packages.
For further information, e.g. regarding the licensing of Hyper-V instances as well as clients - users and end devices - accessing Windows Server 2022 Datacenter, please contact a Wiresoft representative. Corresponding licenses/CALs for Windows Server 2022 Datacenter are also available from Wiresoft.
Buy Microsoft Windows Server 2022 Datacenter as used software in the Wiresoft Software Shop
The current MS Windows Server Datacenter 2022 Edition is already available as used software in the Wiresoft Software Shop. The price of this used software is lower than that of comparable new Windows Server Datacenter 2022 software. When buying used software from Wiresoft, you benefit from these advantages:
When purchasing Microsoft Windows Server 2022 Datacenter from Wiresoft, customers receive an original single-user license that was previously purchased by one and subsequently sold to Wiresoft.
With the resale, the present MS Windows Server 2022 Datacenter server license is marked as used, where "used" does not imply any limitations on the functionality of this Windows Server software or that it has actually been used before.
If the previous owner has already installed or activated this MS Windows Server 2022 Datacenter Software, the respective license has been deleted again before selling it to Wiresoft, so that the respective software license is 100% free again.
The offered MS Windows Server 2022 Datacenter Software license, as well as other used Microsoft licenses offered for sale by Wiresoft, are neither limited usable nor time limited trial versions, therefore they do not contain an activated license key, but it is a software product authorized after your purchase only for yourself.
All such used software licenses first purchased by Wiresoft and then offered for resale, such as this MS Windows Server Datacenter 2022, have also been tested by us for full usability prior to sale.
The legal basis for the resale of a used Microsoft Windows Server 2022 Datacenter software is the applicable law, which allows the sale as well as the purchase and use of used software.
Immediately after your successfully completed purchase, the Windows Server 2022 Dat acenter application is available to you via Electronic Software Delivery (ESD).
When purchasing a used license of Windows Server 2022 Datacenter Edition from Wiresoft, you can be sure that you are purchasing and using an original and legal Microsoft product.
If you have any further questions about your purchase of Microsoft Windows Server 2022 Datacenter as used software or another edition of MS Windows Server 2022 as well as older MS Windows Server versions or other Microsoft software, please feel free to contact us by e-mail, phone or chat.
Read, write and discuss reviews...
more
Customer reviews for "MICROSOFT WINDOWS SERVER 2022 DATACENTER 16-CORE"
Write rating
Ratings will be activated after verification.