Cookie settings
This website uses cookies, which are necessary for the technical operation of the website and are always set. Other cookies, which are intended to increase the convenience of using this website, for direct advertising purposes or to simplify interaction with other websites and social networks, are only set with your consent.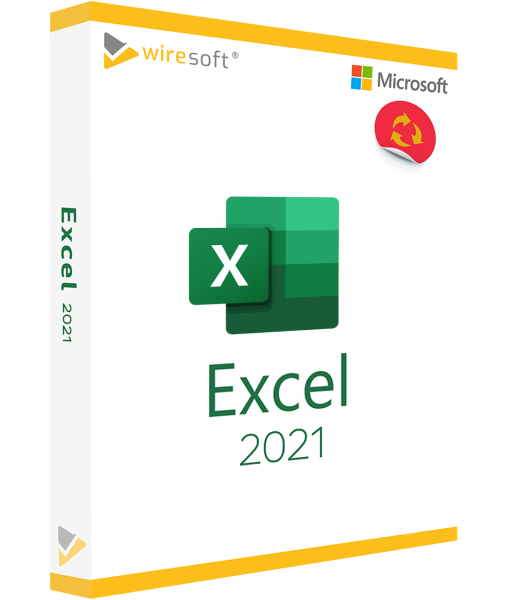 MICROSOFT EXCEL 2021

Prices incl. VAT
Available as an instant download
---
Are you a business customer or do you have legal questions?
I am here for you.
---
Kadir Aydin
Microsoft Licensing Professional (MLP)
item number:

SW10487

Benefits

- Fast delivery
- Authorised original product
- Shipment within 24 hours
- Chat, e-mail and telephone support

Microsoft Excel 2021 as single license Microsoft Excel is also in the current version...
more
Product information "MICROSOFT EXCEL 2021"
Microsoft Excel 2021 as single license
Microsoft Excel is also in the current version 2021 the up to now unsurpassed spreadsheet software for the creation of complex commercial and statistical calculations, supplemented by a multitude of functions that also enable logical as well as business mathematical calculations and the use of pivot tables. The analysis results can be presented informatively and clearly using a wide selection of chart types. Excel 2021 works in conjunction with PowerBI, Microsoft's powerful business analysis service, which also allows data to be exported directly to other environments.
With Microsoft Excel 2021 even more extensive or even more complex calculations are possible by means of extended formulas and new functions for linking and selecting data. Important data can be marked in color to highlight it. New charts offer more options for graphical representation.
Microsoft Excel Online is available for use with all major browsers, allowing users to create spreadsheets, edit data in real time, and share data with other users. Improved touch support makes Excel easier to use on tablets and smartphones.
In addition, there are new tools such as freehand drawing and improved ways to easily create accessible spreadsheets and workbooks.
By using cloud services, sharing documents with other users for collaboration is quite straightforward.
By the way, to use Excel 2021 on your computer or any other device, Windows 10 installation is required. In the Wiresoft online shop, you can get not only the current Word Excel version 2021, but also its predecessor and also other Office programs at a particularly low price as a single-user version, without a software subscription. All important new features in Word 2021 can be found in the following overview.
Overview of the new Excel features in version 2021
Excel 2021 contains not only improvements of the previous version, but also many new features, some of which were previously only included in the Office 365 subscription model - these are now also available in the purchase version.
Specific Excel table functions
For linking tables to advanced queries, Excel 2021 has been enhanced with some new handy features:
TEXT CHAIN: At first glance, this function does not hold anything significantly new compared to the previous CHAIN function, but unlike the latter, it is shorter and also easier to enter. In addition, the TEXT CHAIN function also supports range references, whereas previously only single cell references were possible. This means that TEXT CHAIN can also include a range of cells or entire columns.
The TEXT CHAIN function allows for the combination of text from multiple ranges, with each element separated by a user-specified separator. This allows, for example, words that are divided into cells to be combined into a sentence.
IFS: This function simplifies the input of complicated IF functions by testing the respective conditions in the previously specified order. To do this, the MAXWENNS function specifies the largest number in a defined range that meets at least one of the criteria; the same applies to the MINWENNS function for the smallest number.
Deselect: In previous versions of Excel, it was not possible to exclude individual cells, rows or columns again in a previously selected range. In Excel 2021, users can now deselect superfluous rows that have been selected too much or incorrectly, for example.
Optimizations for PivotTable
PivotTable, the powerful Excel tool for analyzing and evaluating large amounts of data, including the clear presentation of results in documents, has been enhanced with several more practical functions in the 2021 version:
Personalized PivotTable default layouts: this feature now allows you to set up a pivot table individually according to your own ideas, including the display of partial results as well as the overall results and the desired form of the report layout, and then save these defaults as a default layout so that it is immediately available the next time.
Automatic detection of relationships: This feature builds on steps commonly used in analyses by automatically creating relationships between tables already used for a workbook's data model. For example, Excel recognizes when at least two tables need to be linked for an analysis and alerts the user. With a single click, the respective relationships are available.
In Excel 2021, user-defined measures can be created and edited directly in the PivotTable field list, and can also be deleted.
OLAP PivotTables can be created even faster: When using OLAP (Online Analytical Processing) servers for PivotTables, the query is now even faster. This applies not only to pivot tables connected to Microsoft SQL Server Analysis Services, but also to other third-party OLAP servers.
Intelligent renaming: In Excel 2021, if the tables and columns of a data model are renamed in a workbook, Excel will also automatically update all corresponding associated tables and calculations, including all worksheets and DAX formulas, whenever a change is made.
Power Query: By optimizing existing connectors as well as new ones - such as the SAP Hana connector - data from different sources can be imported into Excel 2021 even faster and easier during ETL (Extract, Transform & Load) processes.
New diagrams and 3D models
For analyses and reports, Excel 2021 now provides a number of additional charts as well as three-dimensional models to cover even more areas during evaluations.
Map charts: This new feature in Excel 2021 makes it possible to display geographical values as well. Statistical distributions of data can be quickly and clearly displayed on a map by area - from global views to geographic regions to administrative districts or even by postal codes.
Funnel charts: This diagram form can vividly depict the distribution and process data of a process in several phases, for example in sales processes or customer acquisitions.
3D Models: New in Excel 2021 are three-dimensional models for illustrating reports - here users can either choose from different, immediately available representations, which can also be rotated 360°, or create them themselves and insert them immediately into a document.
Scalable Vector Graphics: SVG (Scalable Vector Graphics) files offer the advantage that they can be enlarged or reduced or even rotated without loss of image quality. The integration of vector graphics in Excel 2021 is therefore particularly practical for presentations.
General functions
In addition to the specific Excel functions, Excel 2021 also offers a number of other features that are also available in other Office programs.
New options for views and desktop features
New themes: Dark gray, white, and black themes have been added to the existing themes in Excel. Black offers the strongest contrast.
Ribbon User Interface: The previously familiar ribbon display has been combined with the tile look that is typical of the Windows 10 operating system. Frequently used elements and functions are placed prominently so that they are available to users more quickly. Of course, it is also possible to customize this view and, for example, only show the ribbon look.
Freehand tool for writing and drawing
Also in Excel 2021 a number of new freehand functions and effects are now available. The new Freehand Drawing tool can be used not only by pen input and touch operation, but also with the computer mouse to mark areas or insert and edit formulas or self-drawn diagrams.
Digital pens in various thicknesses and colors are available for this purpose: a pencil for drawing, a pen for writing, and the highlighter for highlighting text passages. Metallic pens and freehand effects such as rainbow, galaxy, lava, ocean, gold, silver and others expand the possibilities when designing.
The Freehand FormulaInsert feature also allows users to insert complex mathematical formulas into a workbook.
Lasso Selection: Fingertips can be used to select a specific area of a freehand drawing to edit. This is also possible with the Surface pen.
Optimized accessibility
Improved as well as new features are also available in Excel 2021 to optimize content to make it easier to read and edit for users with disabilities. The supporting error correction suggests improvements here after activation, integrated features include the following:
Use of internationally valid standards.
By clicking on "Check" under "Check accessibility", the program makes suggestions that can be implemented immediately via one-click.
The Cue-Audio function actively supports the user via audio feedback with sound effects and audio hints, e.g. when certain features are (unintentionally) changed, or as a confirmation when an e-mail is sent or content is deleted.
Other features in Excel 2021
Other new features also make it even easier to work with Excel in teams:
Changes in shared workbooks can be displayed and also undone more quickly if necessary; the people involved are also named.
Translator:Translating individual words, passages or entire texts is now even easier in Excel: Whereas users previously had to call up a website via the browser to translate them, this is now possible directly in Excel thanks to the integrated translation function and automatic language recognition. More than 60 languages are available in the Microsoft Translator.
The integration of Data Loss Protection (DLP) makes it even easier to comply with data protection rules: content can be searched in real time, based on previously defined guidelines for particularly sensitive data types, such as account and credit card numbers etc.
System requirements for Excel 2021
Operating System: Windows 10, Windows 11, Windows Server 2019 /2022
Processor: Min. 1.6 GHz
Hard disk space: Min. 16 GB (32 Bit) or 20 GB (64 Bit)
RAM: Min. 2 GB RAM (32 Bit) or 4 GB RAM (64 Bit) - recommended: 4 GB RAM
Graphics card: Min. 1,280 x 768 pixels, Min. DirectX 9 with WDDM 2.0 - recommended: DirectX 10
Buy Excel 2021 as a standalone office program at Wiresoft at a low price
MS Excel is an indispensable, integral part of the Microsoft Office suite. At Wiresoft, you do not have to purchase Excel 2021 as part of the corresponding Office suite, but can also buy the software as a stand-alone program - unlike many other software providers.
Your advantage: With the single user license, you do not have to enter into a long-term, expensive subscription commitment or accept a time limit on use. Therefore, it is worthwhile to buy Excel 2021 from Wiresoft as a stand-alone program, as you then also do not have to download any updates that are subject to a charge.
This stand-alone Excel single-user license has the same range of functions as Excel, which is also included in the Office Suite 2021 . This means that even smaller companies or freelancers can benefit from the advantages of Excel 2021 and save money at the same time - because the single-user software is particularly inexpensive at Wiresoft.
Not only Excel, but also all other Microsoft software licenses that you can buy in the Wiresoft Software Shop are original Microsoft products. They often originate from a volume license or have been re-released by a company, which neither restricts their usability nor enters a legal grey area. With the sale to Wiresoft, the previously installed software has been deleted and is therefore free again and usable by another user. As a reputable software dealer Wiresoft also only offers full versions that are unlimited and 100% usable.
If you have any questions about Excel 2021 or any other Office program, you can also benefit from our competent advice by e-mail, telephone and chat.
Read, write and discuss reviews...
more
Customer reviews for "MICROSOFT EXCEL 2021"
Write rating
Ratings will be activated after verification.