Cookie settings
This website uses cookies, which are necessary for the technical operation of the website and are always set. Other cookies, which are intended to increase the convenience of using this website, for direct advertising purposes or to simplify interaction with other websites and social networks, are only set with your consent.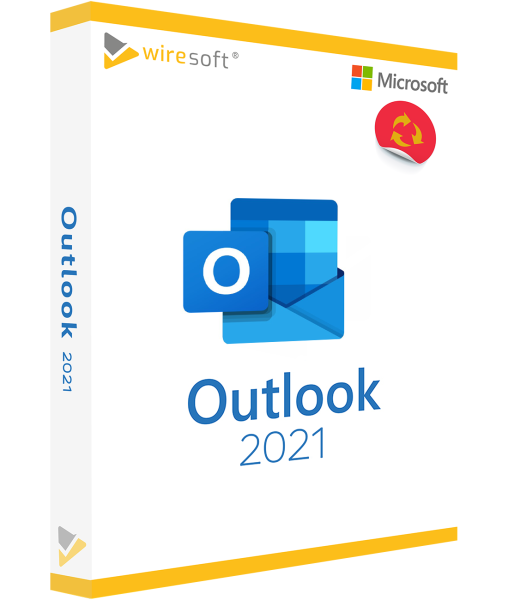 MICROSOFT OUTLOOK 2021

Prices incl. VAT
Available as an instant download
---
Are you a business customer or do you have legal questions?
I am here for you.
---
Kadir Aydin
Microsoft Licensing Professional (MLP)
item number:

SW10489

Benefits

- Fast delivery
- Authorised original product
- Shipment within 24 hours
- Chat, e-mail and telephone support

Microsoft Outlook 2021 - the versatile Office software for managing e-mails, contacts, tasks...
more
Product information "MICROSOFT OUTLOOK 2021"
Microsoft Outlook 2021 - the versatile Office software for managing e-mails, contacts, tasks and more - as a stand-alone program
Microsoft Outlook 2021 is the current version of the proven Office program for the professional organization of e-mail traffic, but also for the central planning and coordination of appointments and contacts, as it belongs to the typical tasks in modern business everyday life.
Compared to other e-mail software, Outlook convinces with its large scope of tools and possibilities, with which even complex projects and extensive communications can be managed.
Users are supported by the intuitive and user-friendly user interface of Outlook 2021 , which enables even inexperienced users to get started with the software quickly and easily. In addition, there is the touch-optimized usability, with which the program can also be easily used on tablets and smartphones. The simple synchronization between different devices ensures that users can access their e-mails, contacts, tasks and appointments from anywhere with Outlook 2021.
The e-mail software also offers the possibility of creating clear folder structures and topic-related folders in order to organise e-mails etc. in a sensible way. Intelligent functions help to separate the important from the unimportant and automatically sort them accordingly. This allows users to keep track of all relevant tasks and important appointments at all times. Many useful functions help them to concentrate on the essentials and thus save valuable time.
With Outlook 2021 it is also possible to manage several e-mail accounts via a desktop interface and to link them together. This allows different calendars, including appointments, to be synchronized, thus avoiding time overlaps. Thanks to the clear navigation bar, all functions for e-mails, tasks, contacts and calendars are quickly available. The user interface, which has been revised in Outlook 2021, is even more intuitive and comfortable to use than before.
MS Outlook 2021 is otherwise only available as a fixed component of the corresponding Office version or from a quantity of 5 licenses, but at Wiresoft you can also buy the e-mail program separately - and at a particularly low price. Buyers of Outlook 2021 who want to take advantage of all its new benefits should note, however, that the Office software only runs on Windows 10.
In the Wiresoft online shop you can not only get this current version of Outlook 2021, but also older as well as other Office programs at a particularly low price as a purchase version. All interesting new features in Outlook 2021 can be found in the following detailed overview.
The most important new features in Outlook 2021 for Windows
Outlook 2021 contains a number of improvements and new functions compared to the previous version, which make the daily organization of e-mail traffic, appointments and tasks even more efficient. Many simplifications are particularly useful in the details and make it easier to concentrate on the essentials: from the classification of incoming e-mails according to their relevance to the Safe Link service for detecting harmful links to the cross-time zone organization of appointments.
The Inbox with Relevance handles any flood of emails
The "Inbox with Relevance" feature literally helps users separate the wheat from the chaff - since today's email traffic unfortunately contains many superfluous, if not spam or those with malware attachments, in addition to the really important messages.
The feature divides the inbox into two tabs - labeled "Relevant" and "Other". The most important messages are of course kept under the first tab, while the user is also informed about other emails which are classified under "Other" and can view them by switching the tab. Further functions such as "Focused " can be used to sort individual e-mails once or generally into the other tab as required. However, to use the Inbox with Relevance, a Microsoft Exchange account is required.
Easy sorting of emails
For users who do not want to activate the Inbox with Relevance or who work without an Exchange account, Outlook 2021 again offers various sorting options as well as the filter "Unread" in the message list.
Mark e-mails as "read" when deleting them
Especially with an extensive email traffic, a quick overview of all unread mails is particularly important so that nothing is overlooked. However, many messages are irrelevant and are deleted unread. All such unread messages located in the "Deleted Items" folder can now be marked as read with just a few clicks, without having to click on each one individually.
Focus mode in Outlook 2021 makes concentration easier
Special attention should also be paid to the newly integrated focus mode, which has the exact opposite goal, namely to shield a user from other active programs and messages while reading e-mails or organizing meetings by temporarily hiding them
Listening to the content of emails
When the office is busy and time is short, reading emails with extensive content can get in the way. A solution to this problem is provided by Outlook 2021, which allows e-mails to be read aloud in the program while the recipient can simultaneously perform other, more important tasks.
Email security with the Microsoft Safe Link service
Outlook 2021 also places special emphasis on the security of data in e-mail.
The new Safe-Link service protects against malware and phishing mails, which is especially hidden in links. Links embedded in a mail are displayed by a much better preview, while in the background a real-time scanner reliably filters out malware and phishing links.
Touch-optimized use of Outlook 2021
Tablet and smartphone users can use Outlook even more easily thanks to the new integration of gestures. For this purpose, the gestures "Swipe left" and "Swipe right" are available for actions such as "Mark as read", "Delete", "Archive", "Flag" and "None", which can be assigned individually.
Display of three time zones for scheduling
Global collaboration between companies places new demands on the organization of projects and appointments. Outlook 2021 now offers the option to add multiple time zones to a calendar. This displays everyone's local time availability, making it easy to choose a time that works for everyone when scheduling international meetings.
Don't miss appointment reminders
So that important appointments are not missed, Outlook 2021 offers several options to remind you of them. It is optionally possible to show a conspicuous reminder above the currently open window, or to draw attention to it by a discreet flashing in the taskbar.
Displaying the participants in a meeting
To know who is attending a meeting that was organized by another participant, the responses of other people to the corresponding request can now be displayed in Outlook 2021 on your own PC.
Enhance the visual impact of e-mails with SVG files
E-mails can also gain information content and impact through visual content, for example by the sender inserting a vector graphic - also called Scalable Vector Graphics (SVG). Outlook 2021 contains a selection of such SVG motifs that can be used free of charge.
The advantage of vector graphics is, on the one hand, their scalability: they can be enlarged or reduced in size without loss of image quality and can also be rotated as desired. In addition, various filters are available for editing, for example to change the color.
Accessible communication in Outlook 2021
Outlook 2021 also offers the possibility of barrier-free communication, so that e-mails etc. can also be read and understood by people who are restricted by a handicap. In doing so, the program applies internationally valid standards. In the list "Recommended Actions" corresponding solutions are displayed in each case. The supporting error correction can already be activated in Outlook 2021 when composing a message, so that nothing stands in the way of spontaneously composing messages. The automatic suggestions for improvement can be accepted with a click and automatically implemented in Outlook.
System requirements for Outlook 2021
Outlook 2021 is available for Windows in both 32-bit and 64-bit versions. The 32-bit version is installed by default. Its advantage is the higher compatibility with many other applications and add-ins that can be used together with the Office programs.
Operating system: Windows 10, Windows 11, Windows Server 2019, or Windows Server 2022
Processor: 1.1 GHz or faster (dual core)
Hard disk space: at least 4 GB
RAM: min. 4 GB RAM
Graphics card: min 1,280 x 768 pixels (4K and higher requires the 64-bit version of Office)
Buy Outlook as a single program of the Office Suite 2021 cheap at Wiresoft
As a classic component of Microsoft Office suites, Outlook 2021 is usually only available within the corresponding Office package. Wiresoft, however, also offers Outlook 2021 as a stand-alone program - in contrast to most other Microsoft software providers. If you don't want to use any other Office program, you will profit twice when buying software with Wiresoft, because you will receive Outlook 2021 individually at a particularly favorable price!
Your advantages when buying Outlook 2021 from Wiresoft: You acquire a single user license, which neither obliges you to an expensive subscription with chargeable updates, nor does it have any limitations of functionality. It is a pure purchase version that is registered to you only.
Secure software purchase with Wiresoft: The Outlook 2021 Single User license that you purchase in our software shop usually comes from a larger volume license or is a used software that is no longer used by the original buyer. The functional range is 100% usable and completely identical to Outlook 2021, which is also included in the Office Suite 2021. As a reputable dealer of Microsoft used software, Wiresoft also only offers official full versions that are identical to the Microsoft programs available in other stores.
Buying used software from Wiresoft is absolutely legal and without risk: neither you nor we are in a legally unsafe zone! In addition, every Microsoft program offered at Wiresoft, whether used software or part of a volume license, has been tested by us for its actual, flawless usability, so that it can be used fully and indefinitely after the purchase and download have been completed.
Especially private users or freelancers and small companies can benefit from all advantages of Outlook 2021 by purchasing the software at Wiresoft. In the Wiresoft Software Shop you will find not only Outlook, but also all other Office programs for sale, as well as many other Microsoft programs.
If you have any questions about Outlook 2021 or any other Office program, simply use our competent advice by e-mail, phone and chat.
Read, write and discuss reviews...
more
Customer reviews for "MICROSOFT OUTLOOK 2021"
Write rating
Ratings will be activated after verification.