Cookie settings
This website uses cookies, which are necessary for the technical operation of the website and are always set. Other cookies, which are intended to increase the convenience of using this website, for direct advertising purposes or to simplify interaction with other websites and social networks, are only set with your consent.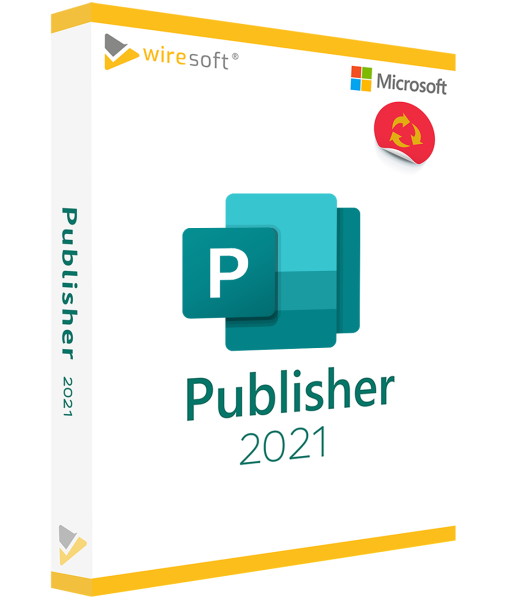 MICROSOFT PUBLISHER 2021

Prices incl. VAT
Available as an instant download
---
Are you a business customer or do you have legal questions?
I am here for you.
---
Kadir Aydin
Microsoft Licensing Professional (MLP)
item number:

SW10491

Benefits

- Fast delivery
- Authorised original product
- Shipment within 24 hours
- Chat, e-mail and telephone support

Microsoft Publisher 2021 - the single program in the purchase version Publisher 2021 is...
more
Product information "MICROSOFT PUBLISHER 2021"
Microsoft Publisher 2021 - the single program in the purchase version
Publisher 2021 is the versatile, powerful program from Microsoft for professional desktop publishing. Not only companies, but also private users, such as pupils and students, can use the software to create convincing publications of all kinds - from image editing and layout to the creation of printable templates. In addition to a comprehensive catalog of templates for flyers, brochures as well as more extensive catalogs, many tools and effects are available to design and further edit them according to individual ideas. By the intuitive and user-friendly user interface and a clear arrangement of the tools also untrained and beginners find a fast entrance in Publisher 2021 and can create print media, which satisfy also high requirements, in addition, only logos, icons and other picture elements.
As in the other office programs of version 2021, the ribbon look of the ribbon can be customized to your own needs, and thus brings a lot of clarity. MS Publisher 2021 is therefore the right partner to implement your creative ideas convincingly and skilfully.
High compatibility with various formats and programs
Of course, the layout program also allows the use of the usual file formats, which include .JPG and .PDF, as well as Microsoft's own formats .XPS and .PUB; the latter can even be opened with an Adobe layout program. This means that print files created with MS Publisher can also be used with other layout software, which increases the compatibility of Publisher 2021. And for the creation of newsletters the HTML format is available.
Publisher can also import files from other Office programs, such as Excel charts and tables or already formatted Word texts.
Finally, the handy Pack & Go wizard automatically collects and packs all files associated with a publication and required for printing (e.g. images, graphics and fonts) into a single file, which you then only need to send to a print service or copy shop, or make available via the Microsoft Cloud.
Brief overview of what's new in Publisher 2021
This new version of Microsoft Publisher features many optimizations as well as expanded options for use: For example, Publisher 2021 can also be used on touch-enabled devices with a stylus. In addition, Publisher documents can also be shared with others via the Microsoft cloud service OneDrive. Thanks to the reliable real-time updating of the files stored there and the high security standards guaranteed with Data Loss Prevention, working on Publisher layout documents in a team is not only efficient, but also secure.
Publisher 2021 offers the following functions and features, among others:
A dedicated column in the design area is now available for editing multiple images.
Images can be intuitively exchanged immediately using drag & drop.
Numerous new image effects are available: e.g. shadows, light effects, 3D effects as well as reflections.
These can also be used for the design of texts.
For the use of an online photo service or digital printing, the finished publications can also be saved in JPG format.
Publisher 2021 is normally only available as a fixed component of certain MS Office versions, but at Wiresoft you can also buy the publication software separately. In order to use the MS Publisher 2021 version on your computer or other Windows-enabled device, the Windows 10 operating system is a mandatory requirement.
In the Wiresoft online shop, you can get the latest version Publisher 2021 as well as older versions and many other Office programs at a particularly low price as a single-user version, completely without a software subscription. The following detailed overview shows all interesting and important new features in Publisher 2021.
The range of functions in Microsoft Publisher 2021
Publisher 2021 includes enhancements to proven existing features and tools, as well as several new features, including free-use graphics and templates, so the range of applications in this version is even broader than before.
Using design suggestions when designing documents
As soon as you start Publisher 2021 , you will see an extensive catalog of design templates containing suggestions for a wide range of different print documents in typical formats: from simple business cards to flyers for mailing to extensive catalogs. Each of the templates can be further customized - colors, fonts and formatting can be replaced or supplemented by others. The file of the original template is always retained, so that it can be accessed again and again, because the newly designed template is saved as a copy.
Especially beginners and inexperienced users will appreciate these document presets to achieve an appealing print result every time.
Of course, it is also possible to design your own templates and layouts. So that these are also immediately available the next time, they can also be saved as a template or master file. This saves professionals a lot of time and ensures that all documents based on it have the same look and feel and are of identical quality.
Using modules for publications
To ensure that documents have a recurring, identical look across different formats and media, so-called building blocks can also be used in Publisher 2021 . These are typical elements such as headings, but also frames, boxes, etc. As with templates, users can use Publisher's built-in building blocks or create their own.
Edit images and graphics directly in Publisher 2021
Graphics and photos can be inserted directly from the PC, from the Microsoft ClipArt library or via the Bing image search or from an online photo album. These can be exchanged and replaced at any time using drag & drop. With the ruler function, they can be placed at the desired position with millimetre precision after insertion.
Image files imported into a Publisher document can even be edited afterwards; it is possible to adjust the color tone as well as the color intensity and also to crop the image size to the desired format. It is also possible to add various effects such as shadows and reflections to images and text to make them stand out.
The scalable SVG vector graphics available in Publisher 2021 retain their sharpness even when enlarged and thus always provide a professional representation, while the 3D objects can be rotated at will to obtain the desired view.
Use handy text boxes
When laying out long texts that span several pages or are interrupted by illustrations, there are some helpful tools available to keep track of the layout: For example, if too much text is inserted into a text box, a small box in the bottom right of the frame will indicate this with ellipsis. The existing text field can then either be enlarged quite simply with the mouse, or several such text fields can be linked together so that the remaining text automatically appears in the next field. This feature is particularly useful when making subsequent changes to the text, e.g. when shortening or adding to it.
Personalize and share Publisher documents
To create personalized mailings, names, photos or even web links of all addressees can be added automatically. And to share a draft or finished layout with other employees, their email addresses can be added directly to a document, making it even faster to send. Using Microsoft's OneDrive cloud services in Publisher, it's also possible to store data online, giving recipients access via a link.
Publisher 2021 has printing options of any quality
Depending on the purpose for which flyers, brochures, invitation cards and other advertising materials, but also purely private print products are to be created, Publisher 2021 provides extensive options for printing and, of course, already for the design. This means that printed matter can be created for any target group in the desired quality. For digital printing via an online printing service, Publisher documents can also be saved in the usual .JPG format.
General system requirements for Microsoft Publisher 2021
Office software Publisher 2021 is available for download in two versions: 32-bit and 64-bit. The 64-bit version is installed by default, but only the 32-bit version can be installed on a 32-bit operating system with an x86 processor. Depending on the version selected, individual hardware requirements may differ - for example, in terms of RAM and hard disk space. The following minimum requirements must be observed:
Operating systems: Windows 10, Windows 11, Windows Server 2019 or Windows Server 2022
Processor: min. 1.6 GHz or faster
Hard disk space: min. 4 GB available disk space
Memory: min. 4 GB RAM
Graphics card: min 1,280 x 768 pixels,

DirectX 9 or higher with WDDM 2.0 or higher for Windows 10
Buy Microsoft Publisher 2021 cheap as single program at Wiresoft
MS Publisher is a classic part of some Microsoft Office suites and therefore usually not available separately, but only together with the other Office programs. At Wiresoft you can also buy Publisher 2021 as a single program - in contrast to many other suppliers of Microsoft software programs - and especially as a purchase version.
Your advantages: This single user license of Publisher 2021 does not oblige you to a time-limited subscription with obligatory updates or possible restrictions in the use of the functions. Therefore, it is doubly worthwhile for you to buy Publisher 2021 from Wiresoft as a single program, especially if you do not need all Office programs.
Secure software purchase with Wiresoft: The Publisher 2021 single user license that you purchase here usually originates from a larger volume license of a company and therefore represents a so-called used software - in terms of functionality, however, it is identical to the Publisher program version that is also included in the Office Suite 2021. Therefore we can offer it to you at a particularly favourable price!
When buying used software you do not run any legal risk, because the trade with used software is expressly permitted by law. In addition, every Microsoft program available at Wiresoft, regardless of whether it was previously used or unused, was first tested for its actual and flawless usability. Therefore, after your purchase and download to your PC, the Publisher Software is immediately 100% usable for an unlimited period of time.
As a serious, reliable software dealer, Wiresoft only offers full versions of the program that are identical to the versions available from Microsoft and do not come from unsafe sources.
Especially freelancers and SMEs, but also private users benefit from all advantages of Publisher 2021 when buying software with Wiresoft, because they save money. In the Wiresoft Software Shop you can buy MS Publisher as well as many other Office programs and other Microsoft programs.
If you have any questions about MS Publisher 2021 or any other Microsoft program, just contact us by e-mail, phone or chat.
Read, write and discuss reviews...
more
Customer reviews for "MICROSOFT PUBLISHER 2021"
Write rating
Ratings will be activated after verification.