Cookie settings
This website uses cookies, which are necessary for the technical operation of the website and are always set. Other cookies, which are intended to increase the convenience of using this website, for direct advertising purposes or to simplify interaction with other websites and social networks, are only set with your consent.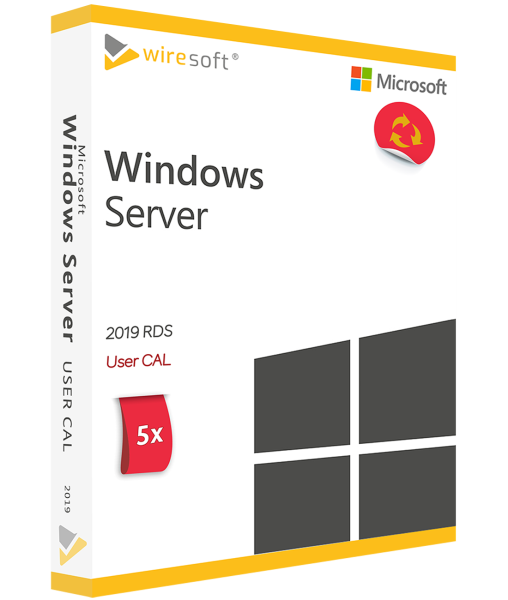 MICROSOFT REMOTE DESKTOP SERVICES 2019 - 5 PACK USER CAL

Prices incl. VAT
Ready for immediate dispatch, delivery time 24h
---
Are you a business customer or do you have legal questions?
I am here for you.
---
Kadir Aydin
Microsoft Licensing Professional (MLP)
item number:

SW10385

Manufacturer No.:

6VC-03224

Benefits

- Fast delivery
- Authorised original product
- Shipment within 24 hours
- Chat, e-mail and telephone support

5x Remote Desktop Services User CALs for Windows Server 2019 as used software Users need a...
more
Product information "MICROSOFT REMOTE DESKTOP SERVICES 2019 - 5 PACK USER CAL"
5x Remote Desktop Services User CALs for Windows Server 2019 as used software
Users need a Client Access License (CAL) to use Windows Server Remote Desktop Services, which allows them to access Windows programs on a corporate network, including files, from anywhere. One option is the User CAL for RDS, which makes it available to a specific user as part of a remote desktop session. The RDS 5 User CALs from Wiresoft offer a low-priced alternative to conventional license providers, as they are used software that offers the same functionality.
What are the benefits of Windows RDS CALs 2019?
Remote Desktop Services (RDS) are technically a specific server role in Windows Server 2019, formerly known as Terminal Services. RDSs allow authorized users to access Windows programs on the corresponding Windows server via a host in the form of a remote desktop session. Users with a corresponding access license (User CAL) can access them either locally via a company network or remotely via the Internet.
For administrators, Windows Remote Desktop Services provide an efficient way to deploy and manage software in a corporate environment, including authorized users. Software programs do not have to be installed on each end device because they are easily deployed to a central location - the server. This makes them easier to control and update. The effort for maintenance and provision of workstations is thus significantly reduced.
The advantages of Remote Desktop CALs for users
Users, on the other hand, benefit from a standardized Windows working environment with an RDS CAL, which is particularly evident with a User CAL in that every end device has a uniform desktop including data - regardless of whether they are at the company location, on the road, at a customer site or in the home office. In addition, with Remote Desktop Services they benefit from the performance of the server even if the end device they are using has weaker hardware. When using Hyper-V, they can also use a virtual computer.
When a user with a User CAL accesses a specific program during a remote desktop session with the host, the program is executed on the server. Each user has specific rights and only sees their own session, regardless of other client connections.
Version Compatibility for Remote Desktop Services CALs for Windows Server
The User CAL for an access-authorized employee (resp Device CAL) must be compatible with the Windows Server version in order to connect to it for a session. A 2019 RDS User CAL can therefore access either Windows Server 2019, or an older server version (downgrade) - but not any future higher server versions.
Windows Server 2019 Remote Desktop Services Overview
Specifically, the RDS for Windows Server 2019 are made up of the following components, which allow a user with a client access license to use apps and services through them:
Remote Desktop Session Host
The Remote Desktop Session Host - also known as RD Session Host - contains all desktops or apps that are provided session-based to a user with a CAL. They can access them through a remote desktop client or a web client.
Remote Desktop Connection Broker
The Remote Desktop or RD Connection Broker manages all Remote Desktop connections - both to desktops and remote apps. If a connection is lost during a session, the RD connection broker re-establishes it with the correct RD session host server.
Remote Desktop Gateway
Through the Remote Desktop Gateway, a user with their User CAL on a public network accesses a Windows desktop or those applications hosted by Microsoft Azure Cloud Services.
Web Access for RD
Web Access for Remote Desktop provides access to desktops or applications through a web portal by launching the Microsoft Remote Desktop client application of the respective endpoint. Web Access for RD also provides the ability to publish desktops or apps only to specific users or groups.
Remote Desktop Licensing
RD licensing governs license usage when deploying Remote Desktop Services. Depending on whether a user or endpoint connects to the remote desktop license server, a specific RDS CAL is made available and a connection is created between the RD session host server and the desktops or apps in use to do so.
Comparison of User CALs vs. Device CALs for Remote Desktop Services to Windows Server 2019
The licensing system for using a server from Microsoft is based on Client Access Licenses, abbreviated as CALs. Therefore, the deployment of a server software is done with a corresponding access license regardless of its usage. Remote Desktop Services CALs ensure that only authorized users have access to the server, which in addition to the differentiated access management per user via the server administration also means additional security, since foreign users have no access to services or data.
Microsoft provides for Remote Desktop Services 2019 it two different types of CALs:
User CALs, when the user is granted access rights, and
Device CALs, when the endpoint device (PC, Laptop, Table, Mobile) is the focus.
Special features of the User CAL for Remote Desktop Services 2019
A User CAL is in principle exclusively intended for a single dedicated user and registered in his name. The User CAL then grants that user the right to access a server for the host during Remote Desktop sessions from an unlimited number of client computers or other devices, but only one at a time. By freely choosing the end device, the user can therefore switch between desktop PC in the company, mobile phone or tablet etc. on the road and end device in the home office and thus use his registered account via the Windows server.
The RDS CALs per user are not enforced by Remote Desktop Licensing. This means that client connections are made regardless of the number of Remote Desktop Services User CALs installed on the license server. However, there must be a valid User CAL for each user. Therefore, the exact number of User CALs in use in a company must be recorded and accordingly enough access licenses must be installed on the server so that each user is provided with a CAL from this pool. This is the task of the Remote Desktop Licensing Manager.
Overview of all features of User CALs for RDS
User CALs are assigned to a specific user in Active Directory - not to a device
User RDS CALs are not temporarily available and cannot be revoked
Each User CAL is tracked by the license server
However, they cannot be tracked within a team
The number of defined User CALs can also be overloaded - contrary to the Remote Desktop license agreement
Conclusion
Which type of Remote Desktops Services CALs offers more benefits in an organization varies on a case-by-case basis. Therefore, the decision for a certain form of client access licensing depends on the number of employees on the one hand and on their preferred way of working on the other hand: For employees who flexibly access Windows Server on different devices and workstations - internal and external as well as mobile - e.g. also on the train or in the home office or on the road, an RDS User CAL is the better choice.
Buy User CALs for Remote Desktop Services 2019 from Microsoft as single licenses at Wiresoft in our online shop
User CALs for the RDS of Windows Server 2019 you can get in the Wiresoft online shop already from a single license at a particularly favorable advantage price as used software.
What does used software of Remote Desktop Services User CALs mean?
The User CALs for Remote Desktop Services of Windows Server 2019 offered for sale here are components of a corresponding volume license purchased by a company. Unused single access licenses for users or even the entire volume license were bought up by Wiresoft and the latter was dissolved and converted into client access single licenses for in the process.
Due to the resale or the splitting, these are designated as used software. However, this designation does not imply any wear and tear on the functions of the RDS User CAL, nor does it imply any restriction with regard to the usability or the duration of the RDS functions.
What security do used software Remote Desktop Services User CALs offer?
Your used software purchase from Wiresoft is always a safe purchase! Even a single CAL for Remote Desktop Services to Windows Server 2019 from Microsoft in the Wiresoft Shop not only has an absolutely favorable price compared to comparable new goods, but also offers security through the instant download and license activation with the supplied valid volume license key.
All Microsoft User CALs for Windows Server 2019 offered at Wiresoft come only from license inventories of companies and enterprises located in Europe, to which EU law applies. Therefore, any purchase of User CALs or other licenses for a Microsoft program as used software as well as their use does not pose a legal problem for customers, because the trade as well as the use of used software is legally permitted throughout the EU, which has been clearly confirmed again and again by numerous court rulings.
Your advantages with used software for User CALs for Remote Desktop Services
The possibility to buy single User CALs as well as a larger number for the RDS of Windows Server 2019, or also other CALs as used software from Wiresoft, is for you as a customer not only a cheaper alternative to conventional offers to license Windows Server, but also offers you the possibility to purchase CALs for older versions of Windows Server. This allows you to continue using your existing server constellation including the other Microsoft programs without having to fear compatibility problems. Benefit from our low-priced offer for Microsoft RDS CALs for Windows Server and other software products as used software!
In the Wiresoft Software Shop you will find User CALs for Windows Server 2019 as well as Device CALs and Client Access Licenses for Remote Desktop Services for older versions of Windows Server - as well as many other Microsoft Server programs as used software for immediate download. If you have any questions about User RDS CALs for Windows Server 2019 or any other Microsoft product, simply use our expert advice in chat or by email or phone.
Read, write and discuss reviews...
more
Customer reviews for "MICROSOFT REMOTE DESKTOP SERVICES 2019 - 5 PACK USER CAL"
Write rating
Ratings will be activated after verification.