Cookie settings
This website uses cookies, which are necessary for the technical operation of the website and are always set. Other cookies, which are intended to increase the convenience of using this website, for direct advertising purposes or to simplify interaction with other websites and social networks, are only set with your consent.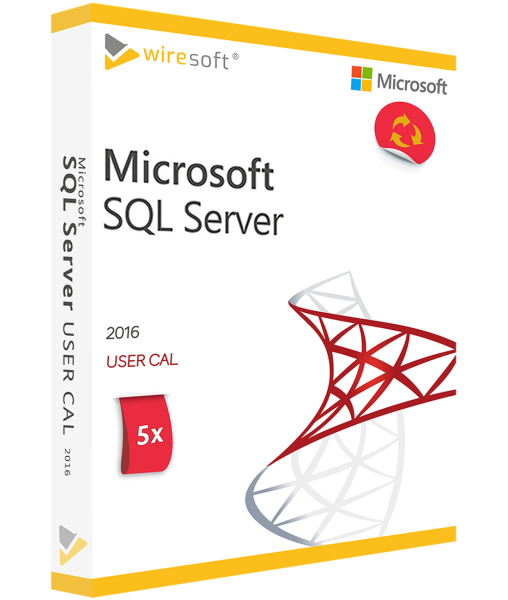 MICROSOFT SQL SERVER 2016 - 5 PACK USER CAL

Prices incl. VAT
Ready for immediate dispatch, delivery time 24h
---
Are you a business customer or do you have legal questions?
I am here for you.
---
Kadir Aydin
Microsoft Licensing Professional (MLP)
item number:

SW10398

Manufacturer No.:

359-06322

Benefits

- Fast delivery
- Authorised original product
- Shipment within 24 hours
- Chat, e-mail and telephone support

Buy 5x User CAL for Microsoft SQL Server 2016 as used license When licensing the standard...
more
Product information "MICROSOFT SQL SERVER 2016 - 5 PACK USER CAL"
Buy 5x User CAL for Microsoft SQL Server 2016 as used license
When licensing the standard edition of Microsoft SQL Server 2016, in addition to the server license for each user, a client access license is also required: the SQL Server 2016 User CAL; it grants a single registered user access rights to the corresponding SQL Server. This is because, unlike Core licensing for the Standard edition, Server/CAL licensing for a SQL 2016 server does not include user rights, so these must be purchased separately as a User CAL in order for a specific user to be personally authorized to access the SQL Server via what is, however, any end device.
5x User CALs for SQL Server 2016 as used software from Wiresoft not only have a favourable price compared to the usual CAL offers in the software trade, but are also available in a package of 5. These have the same functionality as the usual User Client Access Licenses for SQL Server 2016 of the official Microsoft Volume Licensing Program.
Benefit from all advantages of MS SQL Server 2016 with used User CALs
The standard edition of SQL Server 2016 offers all functions for the development as well as the management of scalable hybrid database platforms. Furthermore, this version also contains tools that support typical intelligent business-critical applications in the BI area. Users with a User CAL can also use the Apache Hadoop framework and cloud integration, as well as R-analysis and additional query capabilities. SQL Server 2016 also offers enhanced security features that support efficient and secure enterprise operations. Other new features and optimizations in the software include:
In-memory column store, query store as well as Temporal Tables to historize data, for stronger server performance
Accelerated execution of R scripts via SQL Server R Services with R statistical language directly on SQL Server
Master Data Services allow streamlined management and provisioning of master data sets
Row-Level Security (RLS), Always Encrypted, and Dynamic Data Masking provide enhanced security
Stretch Databases integration extends cloud support
Conventional OLAP (Online Analytical Processing) solutions are supported
SQL Server Reporting Services enable the creation of paginated and mobile reports
Analysis Services provide analytical data for business and reporting services reports
Leverage PolyBase for Transact-SQL queries from external data sources
Transact-SQL maximizes SQL Server performance
Info about used User CALs for SQL Server Standard Edition 2016
As Used Software, the User CAL from Wiresoft has the same permissions to use the functions of the SQL Server 2016 Standard Edition as a "new" Client Access License: This is especially beneficial for SMBs, but also for larger companies that want to operate their SQL Server with Server/CAL licensing, where Client Access Licenses are required for users.
Information on Server/CAL licensing of SQL Server 2016 Standard
Depending on the edition, the Microsoft license terms also offer the alternative option of licensing SQL Server 2016 with a server license plus User CALs - called Server/CAL licensing. This combines the basic licensing of a SQL Server with the licensing of individual users or end devices. In the Server/CAL Licensing variant for the Standard Edition, a Server License 2016 is thus first required for each individual server on which an SQL Server instance is to be run; the CALs contained therein are only equipped with administrator rights, so that for the use of the SQL Server services each dedicated user requires a separate personal access license(User CAL), which must also correspond to at least the identical or a higher SQL Server version.
Only this User CAL entitles him to use the SQL Server features of version 2016, it does not contain any extra software that still needs to be installed, but only the access rights for the client/server environment of SQL Server 2016.
Advantages of licensing the SQL Server 2016 Standard Edition with User CALs
By choosing between Core licensing and Server/CAL-based licensing of users (or even endpoints) with the Standard Edition of SQL Server 2016, Microsoft takes into account those companies and organizations whose SQL Server has a lower performance. The supplementary licensing with CALs for users represents a more economical option for these customers to use the SQL Server services, as here a client access license only has to be purchased for as many employees as they actually need. The Microsoft licensing model offers two types of CALs for SQL Server 2016:
SQL Server 2016 User CAL: this gives a dedicated user server access rights
SQL Server 2016 User CAL: this gives server access rights to a dedicated end device (PC, laptop, tablet, phone)
Note version compatibility of User CALs with SQL Server 2016!
The User CAL for SQL Server 2016 not only allows a user to access a SQL Server 2016, but also older versions such as 2014 (downgrade). Conversely, this User CAL for SQL Server 2016 cannot be used to access a higher SQL Server version such as 2019 (upgrade). Therefore, when purchasing User CALs for SQL Server 2016, compatibility between the server license and client access license must be considered.
What to consider when licensing SQL Server 2016 with User CALs?
As already mentioned, a specific employee receives personal access rights for SQL Server 2016 on one freely selectable Windows-capable end device each via the User CAL. Once the registration of the user has been completed, it can no longer be changed. It is also not possible to change the CAL type from User to User CAL or vice versa. These restrictions on CALs are intended to prevent improper access to the SQL Server. In this way, Server/CAL licensing also provides security for the company and its data, as unauthorized or third-party users are excluded.
What are the advantages of the User CAL for SQL Server 2016?
The User CAL for SQL Server does not differ in principle in its functions from the device-based client access license. Their respective advantages can be seen in the type of SQL Server accesses that are typical in a company where a SQL Server is used.
While the SQL Server 2016 user license is exclusively tied to a single person, it offers the free choice of the end device through which access can be made in each case, even if this is only possible from a single PC or similar.
Compared to the end device-related Device CAL, the User CAL for SQL Server therefore offers a different scope of use, since a licensed user is less bound locally - provided that the end device used has access to the Internet. This means that the user can access the SQL Server both at the workplace in the company and externally via a laptop, tablet or smartphone - regardless of whether he is on a business trip or in the home office.
Used User CALs for SQL Server 2016 offer a more flexible use of SQL Server functions, especially for those employees who are regularly at different locations and regularly connect to the server on their computers, because with the User CAL they always use their personal account.
Conclusion
So which type of client access license for SQL Server 2016 offers more advantages in a work environment differs from case to case. The purchase decision depends on the number of employees who use the SQL Server in relation to the predominant type of use of the corresponding end devices: As soon as the majority uses either a mobile laptop or tablet, or different computers located at different workstations to access the SQL Server, the User CALs offer more advantages. However, as indicated above, the decision on the right type of client access licensing must be made prior to purchase, as the User CAL for SQL Server 2016 cannot be reclassified to a Device CAL or vice versa.
Used User CALs for Microsoft SQL Server 2016 are available from a single license in the Wiresoft Online Shop
The User CALs for MS SQL Server 2016 are available as used software in the Wiresoft Online Shop already as a single user license - because here the usual volume licensing regulations do not apply. The marking "Used" does not mean any disadvantages in the usability of User CALs, because software cannot wear out in principle.
Info about used User CALs for SQL Server 2016
The used User CALs for SQL Server 2016 from Wiresoft are typical access licenses for users as they are available within the Microsoft licensing program; the only difference to these is that they used to be part of a user volume license for SQL Server 2016; the first buyer, usually a company, resold the unneeded single user access licenses or even a complete volume license to Wiresoft. The volume license was dissolved and converted into individual licenses, whereby the resulting individual User CALs were henceforth labeled as used software. Despite the labeling as "used", these User CALs are fully usable for SQL Server 2016, because no restriction in their functionality or their useful life has arisen.
What buyer security does used software offer for User CALs for SQL Server 2016?
User CALs for SQL Server as used software from Wiresoft not only offer our customers a low-priced alternative for SQL Server licensing, but are also secure! As a customer, you already receive a single User CAL for Microsoft SQL Server 2016 not only at a reduced price compared to "unused" new software, but you can also take advantage of the usual buyer security through immediate download and immediate license activation with the included volume license key.
Are used CALs for SQL Server 2016 legal?
The user access licenses for SQL Server 2016 that you can buy at Wiresoft come from the license inventories of organizations and companies. As a result, the sale or purchase is also subject to the valid jurisdiction, which expressly permits the trade in used software; this has been clearly confirmed by several court rulings.
For Wiresoft customers, the purchase of User CALs for SQL Server 2016 as well as other offered client access licenses as used software including their use therefore also offers legal security, since neither Wiresoft nor you as a customer violate legal regulations. In addition, used CALs are also audit-proof due to the complete proof of all previous buyers on the part of Wiresoft!
Your advantages when buying used User CALs for SQL Server 2016
Used software from Wiresoft offers our customers a low-priced alternative to most offers from other providers - not only for User CALs for SQL Server 2016, but also for other access licenses. Above all, there are no restrictions on the number of User CALs required compared to the inflexible tiering for client access licenses, which means that the costs for server licensing can be reduced, as the actual use of SQL Server services can be licensed exactly.
In the Wiresoft online shop, you will find in the Used Software access licenses not only User CALs, but also Device CALs for SQL Server 2016 - including other versions of client access licenses for SQL as well as for other Microsoft servers, including the respective server licenses. This allows you to license your existing software inventory at a low cost, because you avoid both acquisition costs for new hardware and compatibility problems due to inconsistent software versions.
Besides User CALs you can also find other Microsoft software products in the Wiresoft Software Shop - with the advantages of Wiresoft used software. If you have any questions about User CALs for SQL Server 2016 or any other Microsoft product, please feel free to contact us via chat, email or phone.
Read, write and discuss reviews...
more
Customer reviews for "MICROSOFT SQL SERVER 2016 - 5 PACK USER CAL"
Write rating
Ratings will be activated after verification.