Cookie settings
This website uses cookies, which are necessary for the technical operation of the website and are always set. Other cookies, which are intended to increase the convenience of using this website, for direct advertising purposes or to simplify interaction with other websites and social networks, are only set with your consent.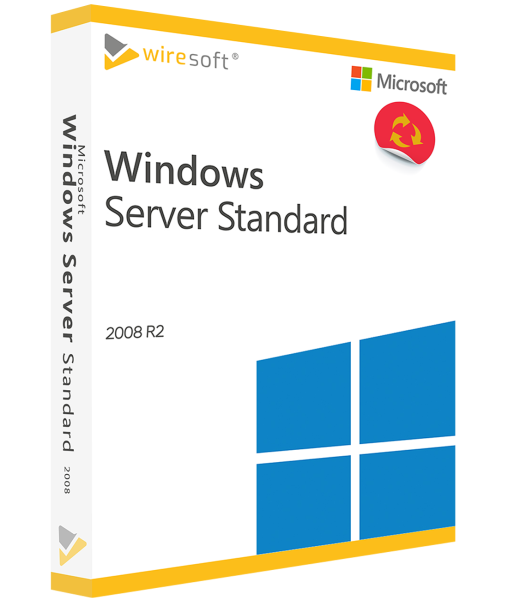 MICROSOFT WINDOWS SERVER 2008 R2 STANDARD

Prices incl. VAT
Ready for immediate dispatch, delivery time 24h
---
Are you a business customer or do you have legal questions?
I am here for you.
---
Kadir Aydin
Microsoft Licensing Professional (MLP)
item number:

SW10104

Manufacturer No.:

P73-00354

Benefits

- Fast delivery
- Authorised original product
- Shipment within 24 hours
- Chat, e-mail and telephone support

Microsoft Windows Server 2008 R2 Windows Server 2008 is the immediate successor to...
more
Product information "MICROSOFT WINDOWS SERVER 2008 R2 STANDARD"
Microsoft Windows Server 2008 R2
Windows Server 2008 is the immediate successor to Microsoft's 2003 server version. "Longhorn", as the unofficial name of the system software is, contains not only numerous improvements compared to its older predecessor, but also new features that meet current business requirements, including virtualization.
Windows Server 2008 provides a reliable basis for setting up a company network that offers secure interfaces to the central server and, of course, also integrates many end devices. The graphical user interface makes Windows Server easy to use, even for beginners. In addition, the operating system (OS) can also be controlled via mouse and keyboard, which makes knowledge of complex commands unnecessary.
In addition to Windows Portable Devices, Point of Service for .NET and RemoteApp, the most important features include Hyper-V, which enables the virtualization of entire server systems. PowerShell, which is based on the .NET Framework, is now included by default in Server 2008, and failover clustering has been improved. Also included is IIS 7.0, the new version of Internet Information Services, including support for PHP, SSL and HTML.
Thus Windows Server 2008 represents an efficient server operating system, whose different editions support the individual requirements of larger, but also smaller companies. The software offers all the prerequisites for administrators and IT experts to optimize the flexibility and reliability of the company's server infrastructure, while at the same time providing a robust application or web platform on the basis of which developers can provide a variety of applications and services.
Microsoft Windows Server 2008 is available in the editions Standard, Enterprise as well as Datacenter in each case as 32-bit and 64-bit architecture, of which the Standard edition is available at Wiresoft at a favourable price. This edition is specially designed for use by small and medium-sized companies without sacrificing essential functions.
Important functions and optimizations of Microsoft Windows Server 2008 Standard
With the functions available in Windows Server 2008 Standard, companies of different sizes in particular have all the important, effective tools at their disposal to build and maintain a robust server operating system in the areas of administration, protection and transfer of data. In addition to the integration of Windows Vista, the powerful virtualization tools increase efficient teamwork and offer greater control of company and home networks.
Higher security with Windows Server Standard 2008
Windows Server 2008 Standard therefore also contains many new security features that improve the protection of the server and the managed data. For example, the integrated firewall in the new Remote Server Management Tools snap-in has a number of revised policies and settings.
Other security tools include the Read only Domain Controller, which is especially useful in potentially insecure locations, and the integrated Network Access Protection (NAP). The management function NAP represents something like a quarantine system for insecure clients. It is based on NPS (Network Policy Server), which imposes certain requirements on every client that wants to access the Windows server, the fulfilment of which is a prerequisite for this client to be allowed to log on to the company network. For this purpose, the DC isolation strategies enable the separate creation and administration of logical networks within the physical networks, so that only accesses from registered clients can be permitted.
The BitLocker tool is available to encrypt data with Server 2008. BitLocker complies with Sarbanes-Oxley and Health Insurance Portability and Accountability Act (HIPAA) regulations for enterprise data security. BitLocker encrypts the entire system. Those components that are started before the kernel are secured by an integrity check (Kernel Integrity Check).
In summary, all of these features in Windows Server 2008 Standard provide the operation of a reliable and at the same time secure server operating system.
Other features worth mentioning include:
Hyper-V for server system virtualization
Hyper-V for Windows Server 2008 now allows organizations to virtualize without relying on third-party programs. The tool, which consists of the hypervisor, allows multiple virtual servers to be set up on one physical server. This allows the server to take on several roles, which can also be managed separately from each other. Hyper-V is managed via the Microsoft Management Console (MMC). In cluster operation, Hyper-V can also be used for live migrations, in which virtual machines can be moved during operation.
This virtualization technology runs on computers with both x64-capable and x86-capable processors; it also supports Network Address Translation (NAT) and Network Access Protection (NAP). In this way, Hyper-V also helps conserve typical business resources such as operating costs and power consumption, which are significantly reduced.
Windows PowerShell
Windows Server 2008 is the first operating system from Microsoft to include the command line shell (command line interpreter) Windows PowerShell. PowerShell is based on the .NET framework, version 2.0; this allows a user to execute commands interactively at a command line comparable to, for example, Windows Script Host, cmd.exe or Unix. For more complex shell scripts, the PowerShell Scripting Language is also available here.
Active Directory in Windows Server 2008
Active Directory, the directory service of Microsoft Windows Server for the management of resources and users, is subdivided into five roles as of the version Windows Server 2008:
Active Directory Domain Services (AD DS) as the central component for domain and resource management
Active Directory Lightweight Directory Services (ADLDS) for connecting services that require Lightweight Directory Access Protocol (LDAP)-compliant information
Active Directory Federation Services (ADFS) for web-based authentication of users outside of the AD-DS infrastructure
Active Directory Rights Management Services (ADRMS) to protect resources from unauthorized users
Active Directory Certificate Services (ADCS) for the provision of the public key infrastructure
The previous DCO types in Active Directory have been supplemented by the Read Only Domain Controller (RODC). The RODC is read-only and has a reduced functionality, thus no passwords are managed, so that it can be used as a domain controller especially in unsecured areas.
Failover Clustering
In the Enterprise Edition, Windows Server 2008 includes failover clustering on the operating system's cluster nodes. The failover cluster supports the GUID Partition Table (GPT) with a maximum of 128 partitions as well as the dynamic addition of resources, which further improves the high availability of the server.
Terminal Services in Windows Server 2008
Several features have also been added to Terminal Services in Windows Server 2008. These include support for multiple monitors as well as resolutions up to 1,920 × 1,200 pixels, the provision of programs during a terminal session via RemoteApp, Windows Portable Devices and Microsoft Point of Service for .NET. The terminal services also allow the simultaneous use of local and remote applications on one computer.
Intuitive user interface
Windows Server 2008 Standard convinces with its intuitively usable desktop and the option to choose between several modes: With the server manager, you have an overview of the current system status at all times and can manage central functions via it. The integrated WMI interface also provides host functions for management scripts, and with the aforementioned PowerShell you can use existing scripts in bat or vbs format, while the Microsoft Management Console (MMC) provides the various management programs via snap-ins.
In addition, it is also possible to install Windows Server 2008 as a so-called core version; in this case, the graphical user interface is omitted, and it then contains only the most necessary features. The core version not only consumes fewer resources, but also offers a smaller attack surface due to the smaller number of installed components, including the server roles.
System requirements for Windows Server 2008 Standard
Due to the increased number of functions compared to the previous version, the following higher system requirements apply when using Windows Server 2008:
Processor: at least 1 GHz (x86 processor) or 1.4 GHz (x64 processor) - recommended: 2 GHz or higher
Memory: 512 MB RAM minimum - 2 GB RAM or more recommended
Memory 32-bit systems: 4 GB maximum
Memory 64-bit systems: 32 GB maximum
Hard disk: at least 10 GB of free space; 40 GB recommended for full installation; 10 GB recommended for server core installation
Drive: DVD-ROM
Resolution: Super VGA 800 × 600 or higher resolution
The licensing model for Windows Server 2008
Licensing of Windows Server 2008 is based on the number of processors contained in a physical server on which the operating system is used, including virtual ones. Each server license allows the operation of Windows Server Software 2008 Standard on one physical and one virtual server.
The server license also includes administrator rights for the administration and provision of the functions.
In order to access the Windows Server Standard as a user, additional client access licenses (CALs) are therefore required. Separate rules also apply for access via Windows Server 2008 External Connector. All further information about CALs for Windows Server 2008 can be found on the corresponding Wiresoft product page.
License Microsoft Server 2008 Standard at a special price via Wiresoft
Wiresoft offers original server licenses for Microsoft Server 2008 Edition Standard at a particularly low final price. This way you can benefit from the advantages of buying licenses from Wiresoft not only for these but also for all other software licenses: All Microsoft software products available from us are single licenses purchased from European companies.
When purchasing, you as a customer are on the absolutely safe side, because according to a ruling of the European Court of Justice, the purchase and resale of software products, which also include server licenses and client access licenses, are completely legal.
In addition, all of these licenses are 100% usable, as they have been thoroughly tested by us for authenticity and usability.
Many of our customers can confirm the advantages of Wiresoft's affordable licensing offer, which is complemented by our expert advice on the most economical licensing of Windows servers in a company. If you have any questions about your individual licensing with Microsoft Server 2008 Edition, please feel free to contact us:
Read, write and discuss reviews...
more
Customer reviews for "MICROSOFT WINDOWS SERVER 2008 R2 STANDARD"
Write rating
Ratings will be activated after verification.